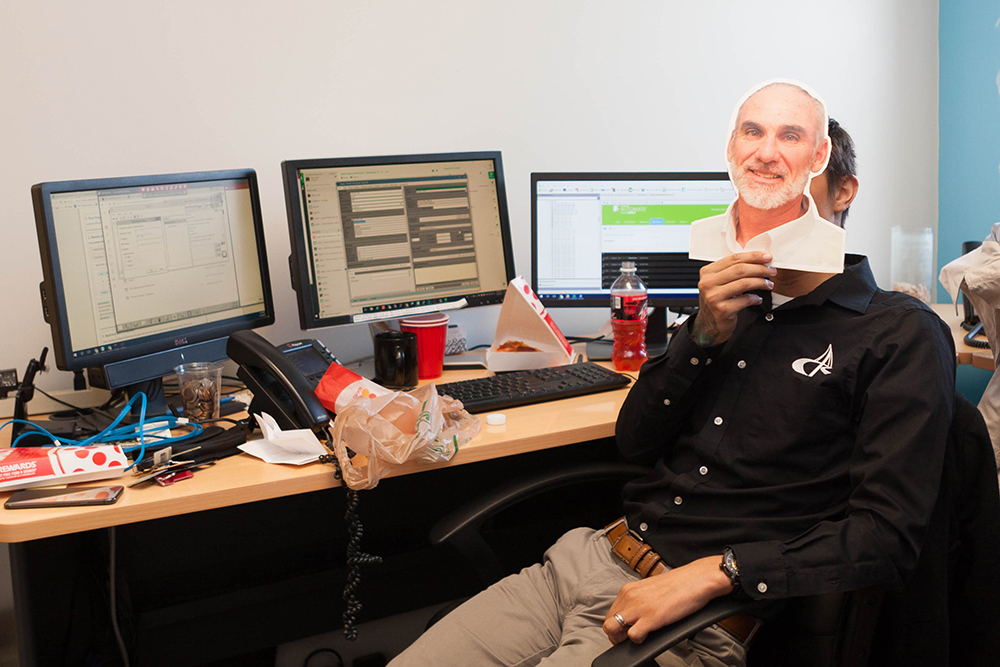 Think Like Steve – Network Engineer Nate Smith
December 1, 2017
DTC was founded in 1994 with only a couple of employees. Since then, we've thrived – expanding our client base, offering new services, and growing to a current size of 20 employees. Behind this is the visionary that keeps us moving forward: CEO and founder Steve McNamara. DTC is his passion that he built from the ground up. Like any entrepreneur, he trusts only the best and the brightest to keep DTC going. Each member of our team strives to 'think like Steve' in different ways. It's our way of making sure things get done exactly the way Steve would do them each time. DTC prides itself on quality staff, so our customers only get the best care – and it's all because of how Steve trains and manages his employees.
Nate Smith is DTC's network engineer and has been with the company for about a year and a half. As network engineer, Nate is responsible for designing and implementing networks for our clients, on top of multiple other duties. He is the master at multi-tasking – just take a look at his three computer monitors! A "standard" day for Nate consists of providing elevated support to unresolved or complicated technical issues while working on multiple projects at once. Nate handles most of our client server migrations, as well as performing network assessments and providing a scope of work for new clients to bring them up to optimal performance and HIPAA compliance. He is also our go-to person for any issues regarding VOIP phone systems, and usually has a few internal projects on his plate as well. He keeps himself busy during the day and it is evident that he has found a job he loves.
"I feel DTC has given me a lot of trust and responsibility and it means a lot to me. Everyone I work with here is like family to me. I love network engineering and that's what I do. It is my passion. I get to share my knowledge of advanced IT with the other technicians, and being a leader is something I take with pride."
DTC's trusting and family-like atmosphere is most certainly due to Steve's influence on the company culture. He is constantly working to make sure that not only his business is running well, but the people he employs are cared for and happy. Nate shares, "Steve is a 'get it done' kind of guy, and very intelligent when it comes to business. Yet he's also a family man and a people person. He's someone I already have at the top of my list of inspiring people. He writes his own goals and achieves them, and I admire that about him." Steve's success is largely due to his ability to relate to people. Whether it's with a client to close a deal, or with an employee to explain how to resolve an issue, Steve knows the value in each individual and takes the time to make that value known.
"The fact that Steve grew DTC from a small little thing to where it is today impresses me. Business interests me as much as network engineering does, and I greatly admire Steve's business acumen. Because of Steve's training, I am challenged more and have learned more than ever before – both in business and IT. And I'm always still learning."
Since Nate performs almost all of our new client network assessments, he is challenged to think like Steve often. A network assessment consists of evaluating the client's current setup so we can determine what needs to be done to improve it, if necessary. This part of the onboarding process is very important to Steve, because he wants things done right, the first time.
"The best way I try to think like Steve when designing my scope of work is to think about the client's budget. This is something that other companies often miss – they either overkill a project or go way below a budget and try to be the cheapest option. I think like Steve by providing the best, most valued solution possible to the client without bursting budgets or undermining them. His influence and approval has made me come up with a few unique solutions to client issues. With the knowledge passed to me over time, I can create simple, valuable solutions for our customers."
In just over a year, Nate has become a valuable member of DTC's team. His passion for network engineering and determination to do the best job possible has improved DTC's services greatly and likely saved our clients a significant amount of money. Like Steve, Nate is always thinking one step ahead about how best to solve our clients' technical issues. New and existing customers alike can rest assured, knowing their networks are in good hands.