DTC Webinar: HIPAA and What Your Practice Must Do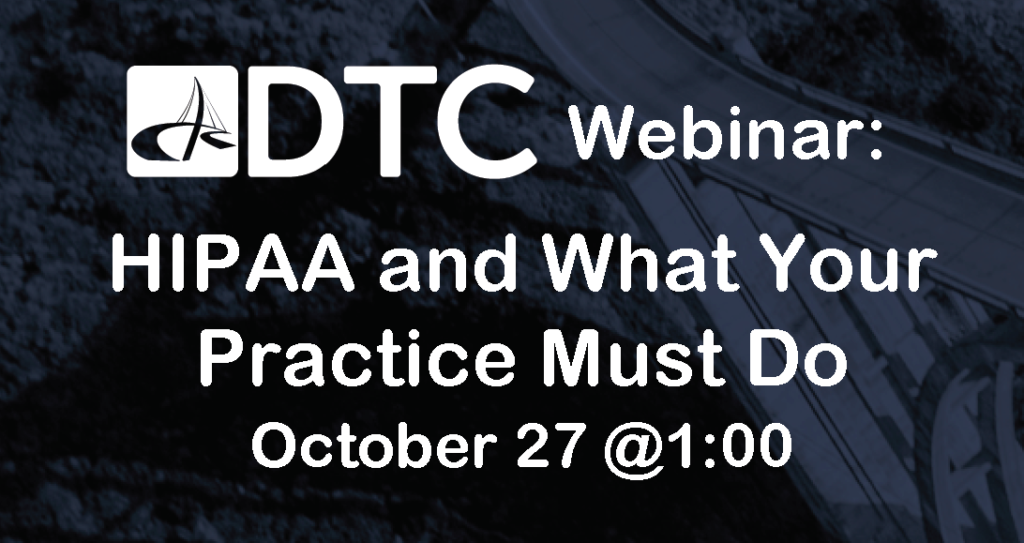 Are You Confident In Your Office's HIPAA Compliance?
Join DTC at 1pm on October 27thfor a Free HIPAA Webinar: HIPAA and What Your Practice Must Do. The webinar will provide insight on:
HIPAA and how it applies to your practice
Risk Assessments and Breaking the Law
5 Actions to Prevent Penalties
Cyber Liability Insurance
Training Your Team
DTC's own Darin McCue will be leading the webinar.  Darin has shared this message at the Chesapeake Dental Convention, Delaware State Dental Society, Frederick County Dental Society, Anne Arundel County Dental Society and various study clubs.  He will be joined by Tim Girard of RK Tongue.
Be sure to mark your calendars for Thursday, October 27th @ 1 pm, and Click Here to Register For The HIPAA Webinar. Please note that you must first register using this link in order to join the webinar.
If this will be your first webinar, or if you'd like more information on attending webinars, check out Go To Webinar's Attendee Guide for helpful tips.
Don't wait to register!
The first 50 people to register for this webinar will be entered in a drawing to win a $50 Amazon gift card.